Redesigning the MassArt Student Experience
Across the board, students of color face deep-rooted systemic barriers to success in college, and Massachusetts College of Art and Design is no exception. As MassArt seeks to shift from expecting "college-ready students" to becoming a "student-ready college," prioritizing the needs and experiences of students of color is critical.

For this 3-month project, our 6-person team at Agncy partnered with the MassArt Office of Justice, Equity, and Transformation (JET) and two academic departments to redesign the student experience to center students of color.

︎︎︎ This was a large, collaborative process. In this case study, I'll focus on my contributions to the project's co-design sessions and narrative storytelling.


---

The model for this project's arc of work, created by myself and another team member, to represent that the work was iterative & would build on itself.
The co-design session activities were designed to be completed in small, affinity-based groups chosen by participants. This allowed students of color (as well as students of other marginalized identities) to connect with each other and speak openly about their experiences. It also accommodated varied session sizes, ranging from 8 to 40 participants.

Throughout our ~12 co-design sessions, I focused on understanding and refining the participant experience — clarity in instruction, minimizing lag, and ensuring activities were intuitive to complete but also flexible in capturing input.


In round 1 of co-design, we focused on identifying what students hoped for their departmental experience.

We wanted participants to be able to draw on experiences they'd already had and to ideate on a small scale. I built the activities in Mural, a collaborative whiteboarding web application.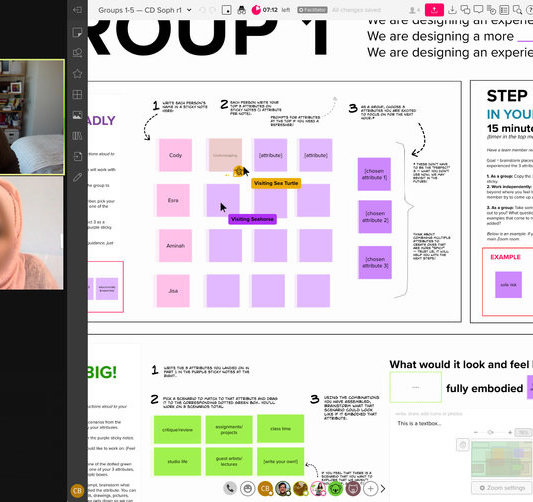 In round 2, we asked participants to drill down into specific areas of leverage that we pulled from their round 1 work.

Instead of continuing to brainstorm outward, we wanted participants to get more specific with their thinking.

I created the rapid "prototyping" activities with a range of mechanics — roleplay, writing, building graphs, etc. — and we let participants choose which activities they wanted to complete.

Google Slides versions of the activities for co-design round 2
Once our co-design sessions were completed, our team synthesized the outputs along with secondary research and interviews conducted with students, faculty, and alumni.

My role in synthesis was to translate our insights and recommendations into narratives, and to direct a team of illustrators to bring these narratives to life.

The stories I outlined were pulled from real examples shared by students during interviews and co-design, but generalized or remixed to preserve anonymity.

To give our team of illustrators — MassArt students or graduates of color themselves — a sense of ownership over these stories, I asked them to fill in specific details, give characters names and identities, and suggest edits, which I then reviewed.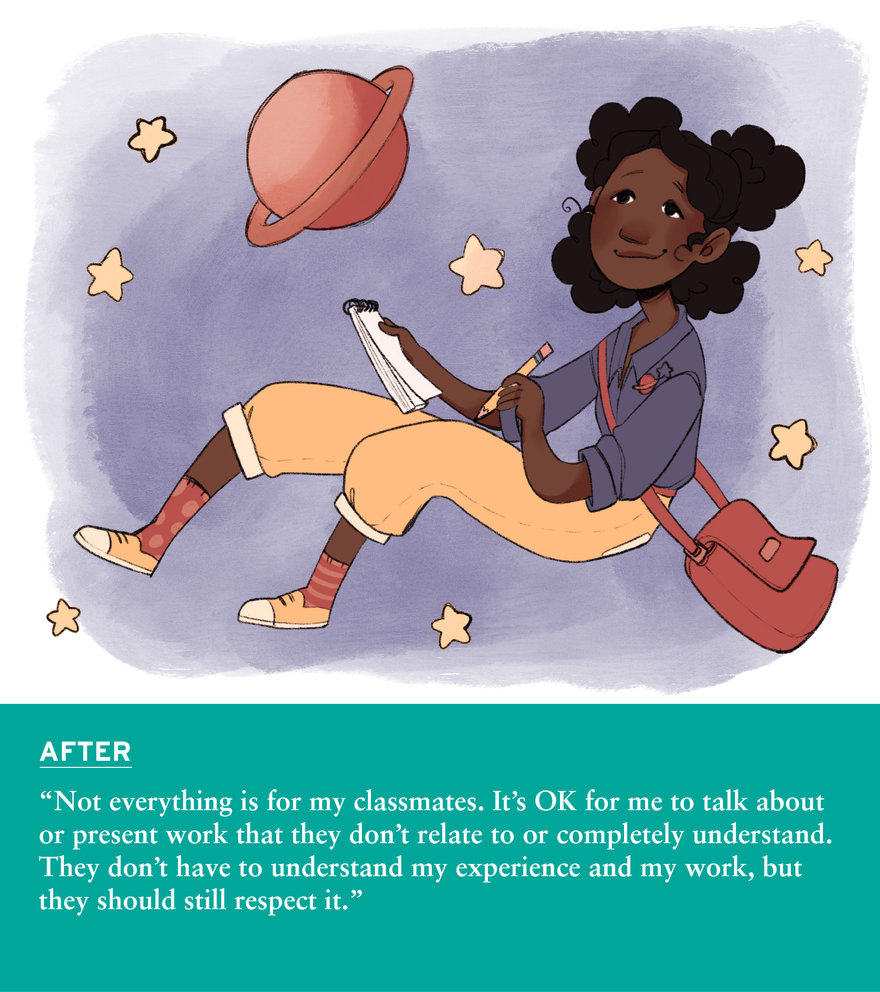 Above illustrations by Leo Durham -
www.leodurham.com
Above illustrations by Marisa White -
marisawhiteart.com